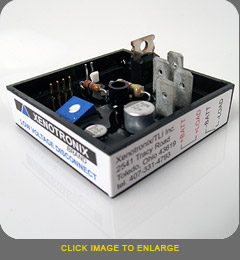 DP10 Low Voltage Disconnect
The DP10 is a low voltage disconnect. It is designed to disconnect a load from your battery when the battery voltage becomes so low that further discharging it may cause damage to either the battery or the equipment using the battery. Versions are available with audible and visual alarms that will provide a warning before the load is disconnected. An extended temperature range version is also available.
Benefits
Saves battery replacement costs
Improved battery performance and reliability
Increased battery life
Prevents reverse polarity charging
Minimizes battery pack temperature rise
Improved equipment performance
Allows safe, unattended discharge of battery
Features
one #8 screw
Maximum surge current of twice rating for five seconds
Works with sealed lead-acid NiCd, and NiMH type batteries
Disconnect voltages available in standard settings or customer specified settings
Audible and visual alarms available
Technical Specifications @ 25 °C (77 °F)
Maximum Continuous Load Current
10 A
Maximum Surge Current (5 sec)
20 A
Quiescent Current
Approx. 2.5 mA
Maximum Input Voltage
20 V for 12 V and under models
40 V for 24 V and under models
Standard Disconnect Voltage
1.75 V/cell for lead-acid models (3-12 cells)
1 V/cell for NiCd and NiMH models (5-20 cells)
Disconnect Delay
3 sec.
Alarm Duration (alarm version)
60 sec.
Reset Voltage
2.1 V/Cell for lead-acid models
1.3 V/Cell for NiCd and NiMH models
Dimensions
2.05"L x 2.05"W x 1.0"H
Weight
Approx. 2 oz.
Terminals
0.250" x 0.032" PCB tab
Mounting
Single mounting hole for #8 screw
Operating Temperature
0 to 60 °C or 32 to 140 °F
-25 to 80 °C or 13 to 176 °F (extended temperature version)
Storage Temperature
-40 to 80 °C or -40 to 176 °F
Accessories
LVD-LED* Red super-bright LED with 12" cable; includes clear panel mount lens
LVD-BEEPER* 93 SPL beeper with 12" cable for optional remote beeper version

*requires alarm version
Options:
Alarm circuit with beeper and header for remote LED
Alarm circuit with headers for remote beeper and LED

Warranty
Service: 1 year
Product Documentation
PDF format reqires Adobe Acrobat Reader - Click here to download

USER'S MANUAL - PDF

Application Notes - PDF

Data Sheet - PDF