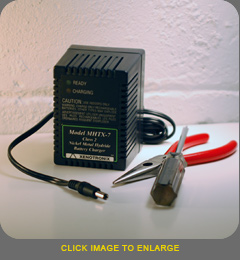 MHTX-7 NiMH Battery Charger

The MHTX7 is a two stage, constant current battery charger. After charging your battery with a precision constant current for 14 hours, it automatically switches to a low rate current. Models are available for batteries from 1 to 12 cells (1.2 to 14.4 volts) and from 500 mAh to 5 Ah in size. Output current is factory adjusted (from 50mA to 500mA) to match your specific battery size. Please call or email our technical sales department if you have any questions.
Technical Specifications @ 25 °C (77 °F)
Input Power Requirements
120 VAC, 60 Hz, 0.2 A
Available Charge Current Range
50 mA – 500 mA
Recommended Battery *
1 to 12 cells (1.2 to 14.4 volts)
500 mAh to 5 Ah
Trickle Current
25% of charge current
Charge Timer
14 hours
Dimensions
2.8" W x 3.8" H x 2.8" D (not including plug)
Weight (with standard output cable)
Less than 1.5 lbs.
Operating Temperature
0 to 40 °C or 32 to 104 °F
Storage Temperature
-40 to 80 °C or -40 to 176 °F
Additional Features:
Direct wall-plug unit (Nema 5-15 plug pattern)
Tough ABS plastic ventilated housing
Metal back for improved strength and reliability
Integral output terminal strip
6' detachable output cable with 2.5mm ID barrel plug standard
Other detachable output cables available
Two LED indicators for Charging and Ready
Custom charge timers available
Private labeling available
Warranty
Service: 1 year
Safety Agency Approval


CSA NRTL/C (USA and Canada)
Product Documentation
PDF format reqires Adobe Acrobat Reader - Click here to download
MHTX7 NiMh Battery Charger

USER'S MANUAL - PDF


*To prevent the charger from over heating, below 6 cells (7.2 V) the maximum charge current must be reduced from 500 mA to: 300 mA for 1 cell (1.2 V); 340 mA for 2 cells (2.4 V); 380 mA for 3 cells (3.6 V); 420 mA for 4 cells (4.8 V); 460 mA for 5 cells (6 V).