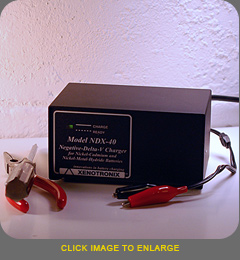 NDX40 NiCd Battery Charger
The NDX40 is a precision constant current quick charger that uses negative-delta-V detection to terminate the charge. When charging is complete, the current is pulsed to maintain the battery with a full charge and to avoid cell degradation due to dendritic (crystalline) growths. The precision voltage sensing in the negative-delta-V circuit is appropriate for both NiCd and NiMH batteries.
Technical Specifications @ 25 °C (77 °F)
Input Power Requirements
115 or 230 VAC, 50-60 Hz, 1 A
Available Charge Current Range
500 mA – 2.5 A
Charge Rates/ Backup Timers
2C (C/5)/0:35; 1C (C/1)/1:10; 0.5C (C/2)/2:30; 0.25C (C/4)/5:35
Recommended Battery
1 to 12 cells (1.2 to 14.4 volts)
250 mAh to 10 Ah
Charge Termination
-0.5% negative-delta-V with timer backup
Dimensions
5.5" W x 3.5" W x 2.9" H
Weight
4 lbs.
Operating Temperature
0 to 40 °C or 32 to 104 °F
Storage Temperature
-40 to 80 °C or -40 to 176 °F
Additional Features:
IEC-60320 power inlet accepts detachable power cords
6' Power cord with Nema 5-15P plug provided standard
115/230 Volts input selection switch
3' output cable with 2.5mm ID barrel plug standard
User replaceable fuse holder with integral spare fuse
Full metal enclosure to ensure field reliability
Custom charge rates and backup timers available
Custom output cables available
Single LED indicator (charging/ready)
Private labeling available
Optional Temperature Sensing
When charging at fast rates, many battery manufacturers recommend using a temperature sensor to stop the charge when the battery gets too hot. Also, they do not recommend charging batteries at cold temperatures. A 4-wire output cable for connecting to a temperature sensor inside the battery pack or a remote temperature sensor cable for attaching to the battery pack exterior are available as options. These will prevent or pause charging when the battery is either too hot or too cold to safely charge. The charge will start or resume when the battery temperature returns to a safe range.
Warranty
Service: 1 year
Product Documentation
PDF format reqires Adobe Acrobat Reader - Click here to download

USER'S MANUAL - PDF

Application Notes - PDF


Accessories
Detachable Input cordsets are available for use in other countries. One end has an IEC 60320 power connector and the other end may be chosen from the following options:
CS1-1 Nema 5-15P, North America (provided standard)
CS1-2 CEE 7/7 (Schuko), Continental Europe
CS1-3 BS 1363, United Kingdom/ Ireland (3A)
CS1-4 AS 3112, Australia/ New Zealand
CS1-5 SEV 1011, Switzerland
CS1-6 Afsnit 107-2-D1, Denmark
CS1-7 CEI 23-16/VII, Italy
CS1-8 SI 32, Israel
CS1-9 JIS 8303, Japan (7A)
CS1-10 India/South Africa