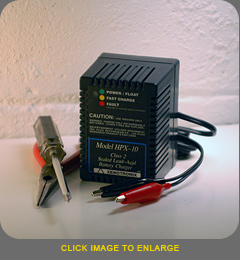 HPX10 Sealed Lead-Acid Battery Charger
The HPX10 is a two stage, temperature compensated, constant voltage battery charger with current limiting. It is designed to automatically switch to a float charge after the battery is charged. It is protected against reversing the output terminals on a battery and short circuits. Standard models are available for charging 6V and 12V batteries and additional models to recharge 4V, 8V, and 10V batteries can be made to order. The standard voltages will work with most AGM and Gel Cell batteries and can also be custom calibrated to your exact specification. The output current can be factory adjusted to match your specific battery size. A single stage version is available for charging batteries in applications where there may be a parallel load. Please call or email our technical sales department if you have any questions.
Technical Specifications @ 25 °C (77 °F)
Input Power Requirements
120 VAC, 60 Hz, 0.2 A
Available Charge Current Range
100 mA – 1 A for 6 V models
100-800 mA for 12 V models
Battery Recommendations
Up to 10 Ah for 6 V, 1 A models
Up to 8 Ah for 12 V, 800 mA models
Standard Charge Voltage
7.2 V for 6 V models
14.4 V for 12 V model
Standard Float Voltage
6.8 V for 6 V models
13.6 V for 12 V models
Change from Charge to Float
When current drops to 13% of maximum
Dimensions
2.8" W x 3.8" H x 2.8" D (not including plug)
Weight (with standard output cable)
Less than 1.5 lbs.
Operating Temperature
0 to 40 °C or 32 to 104 °F
Storage Temperature
-40 to 80 °C or -40 to 176 °F
Additional Features:
• Direct wall-plug unit (Nema 5-15 plug pattern)
• Tough ABS plastic ventilated housing
• Metal back for improved strength and reliability
• Integral output terminal strip
• Detachable output cable with insulated clips or barrel plug standard
• Other detachable output cables available
• Temperature Compensated
• Custom charge voltages and currents available
• Single tri-color LED indicator (power/charge/fault)
• Private labeling available
Warranty
Service: 1 year
Safety Agency Approval


CSA/NRTL (USA and Canada)
Product Documentation
HPX10 Sealed Lead-Acid Battery Charger

USER'S MANUAL - PDF


Accessories

Optional Output Cables:
All output cables are 6' long and made using black, 18 AWG zipcord. One end has a custom molded connector for attaching to the output terminal strip and the other end may be chosen from the following options:
HPXCS-1 Red and black insulated battery clips (available standard)
HPXCS-2 Bare wire leads. Positive lead identified with sticker
HPXCS-3 Barrel plug connector, 2.5mm ID, 5.5mm OD (available standard)
HPXCS-4 Cigarette lighter plug
HPXCS-5 Pressure contact "p-clip" for Panasonic LCS-2012 (or equivalent)