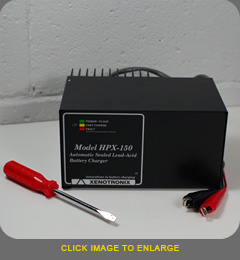 HPX150 Sealed Lead-Acid Battery Charger
The HPX150 is a two stage, temperature compensated, constant voltage battery charger with current limiting. It is designed to automatically switch to a float charge after the battery is charged. It is protected against reversing the output terminals on a battery and short circuits. Standard models are available for charging 12V and 24V batteries and additional models to recharge other battery voltages (4V to 48V) can be made to order. The standard voltages will work with most AGM and Gel Cell batteries and can also be custom calibrated to your exact specification. The output current can be factory adjusted to match your specific battery size. A single stage version is available for charging batteries in applications where there may be a parallel load. A switch is provided for selecting between 115 or 230 V input voltage. Please call or email our technical sales department if you have any questions.
Technical Specifications @ 25 °C (77 °F)
Input Power Requirements
115 or 230 VAC, 50-60 Hz
Available Charge Current Range
4 A – 10 A for 12 V models
2 A – 5 A for 24 V models
Battery Recommendations
Up to 100 Ah for 12 V, 10 A models
Up to 50 Ah for 24 V, 5 A models
Standard Charge Voltage
14.4 V for 12 V models
28.8 V for 24 V models
Standard Float Voltage
13.6 V for 12 V models
27.2 V for 24 V models
Change from Charge to Float
When current drops to 13% of maximum
Dimensions
8.5" W x 6.45" D x 4.4" H
Weight
11.5 lbs.
Operating Temperature
0 to 35 °C or 32 to 95 °F
Storage Temperature
-40 to 80 °C or -40 to 176 °F
Additional Features:
IEC-60320 power inlet accepts detachable power cords
6' Power cord with Nema 5-15P plug provided standard
115/230 Volts input selection switch
3' output cable with insulated battery clips provided standard
User replaceable fuse holder with integral spare fuse
Full metal enclosure to ensure field reliability
Temperature compensated
Custom charge voltages and currents available
Custom output cables available
Single tri-color LED indicator (power/charge/fault)
Private labeling available
Warranty
Service: 1 year
Product Documentation
PDF format reqires Adobe Acrobat Reader - Click here to download

HPX150 Sealed Lead-Acid Battery Charger

USER'S MANUAL - PDF


Accessories


Detachable Input cordsets are available for use in other countries. One end has an IEC 60320 power connector and the other end may be chosen from the following options:
CS1-1 Nema 5-15P, North America (provided standard)
CS1-2 CEE 7/7 (Schuko), Continental Europe
CS1-3 BS 1363, United Kingdom/ Ireland (3A)
CS1-4 AS 3112, Australia/ New Zealand
CS1-5 SEV 1011, Switzerland
CS1-6 Afsnit 107-2-D1, Denmark
CS1-7 CEI 23-16/VII, Italy
CS1-8 SI 32, Israel
CS1-9 JIS 8303, Japan (7A)
CS1-10 India/South Africa